About

I'm Caitlin Marks, and I'm the designer and creator of Freudian Slip bags and Vintage Zoo toys and accessories.
I spent my formative years with my grandparents in Melbourne, Australia, and it was a very creative environment to grow up in. My grandfather is a journalist and is the ultimate wordsmith, and my Austrian grandmother is a very adept seamstress who has created her own patterns since the 1950s (my most favourite era). I always enjoyed being creative through writing, drawing and painting, but sewing was never really my bag (oooh I couldn't help the pre-emptive pun!)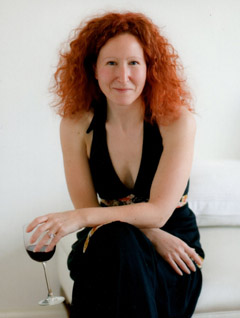 In 2003, I jumped on a plane to eke out an existence in the vibrant and eclectic universe that is London. After a year in publishing sales in the south of England, and 5 years in banking, something changed. I bought me a sewing machine. Always on the lookout for eccentricity and vintagey funkiness, I took a deep breath and with a little bit of instruction via a rather convoluted and hilarious phonecall to my grandmother in Australia, I made myself a reversible handbag from some pretty spesh Liberty fabric.
I was somewhat bemused to find myself being stopped many more times than once on the streets of London to be asked where I'd purchased my handbag. I started to receive orders for my bags and began to wonder whether it was perhaps possible to make a life out of doing something that I immensely enjoyed AND got to share with others. And so my creative journey began…
I undertook a series of tutorials from a very talented seamstress in London who teaches at St Martins College of Fashion. I traveled to many cities sourcing vintagey fabric for my creations. I set up stalls at various London markets, including the famous Greenwich Market. I recently moved back to Australia and have had the support of many, including my grandmother, who is rather chuffed I've decided I want to be a designer and creator when I grow up. And yay! a few years on from fashioning my very first bag, I am very proud to bring you some Baggage Worth Carrying and a few Creative Creature Comforts….all made with ♥ in Melbourne, Australia.
I hope Freudian Slip and Vintage Zoo bring you and yours as much hip-happy loveliness as I get to relish by designing and creating them….
And Hendrix, Pascale, our vintagey vessels and all our other creations are never far away, whether online, at a market or at a personalised party, so whenever you feel like some vintage-inspired, hand crafted ♥ you can:
Step inside our world…..